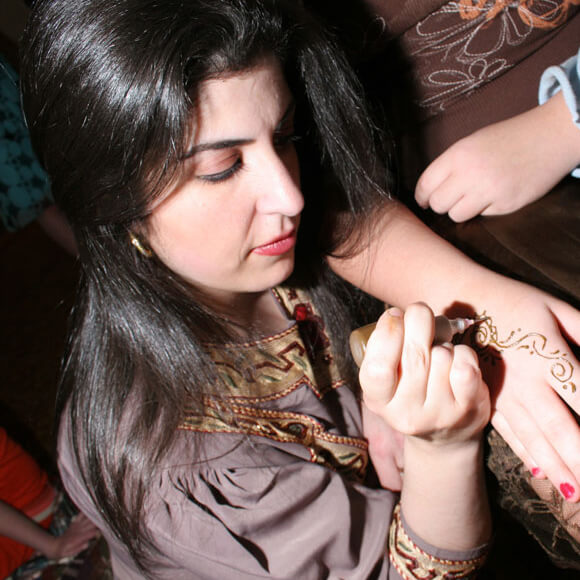 Henna tattoo artist Los Angeles
Henna Tattooing is a cultural and traditional art I have been practicing since childhood. I was fascinated by the art form and was lucky enough to learn it from a close relative, at a henna party my parents brought me along to. Today, my hobby became my passion and now the art of henna is my full time business. Not a side gig, but a full time henna company.
In 2005 I opened my first henna booth in Melrose. From then on I focused on private parties and events. In 2012, I traveled to San Fransico to study with Ash Kumar, a UK celebrity henna artist. Ash Kumar has certified me as one of his trusted and preferred henna artists.
I have had the pleasure of working for Disney, Nickelodeon, Sony and many other studios. I have been featured on numerous television shows and worked for the best agencies in the entertainment industry. My work has been showcased in Fit Pregnancy, Time magazine, Universal Television, MTV, Sex in the City, HGTV, and many others. Working for Halle Berry, Eddie Murphy, Jessica Biel, Ellen DeGeneres, Jessica Simpson, Brittany Spears, Forest Whitaker, Kamala Harris and many other high profile people was a real highlight of my career!
Thank you for choosing me and trusting in me as your henna artist with experience. It is more than art, it is safety and know how. Understanding what type of henna to choose from, how to properly use it. It is the experience of how to carefully prepare it, so that it actually stains and lasts. It is the ability of knowing how to draw traditional free form designs and doing so at a fast speed so that everyone gets some henna. Mostly, it is offering the public a fun party going experience! This is me, this is LA Henna.